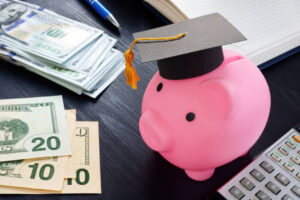 If you are one of the 43 million current or former borrowers with outstanding federal student loan debt, you may be thinking of consolidating your federal student loans. Maybe you are hoping that a single payment each month will relieve some of the burdens of meeting your obligations and even lower your overall student debt, or you might be wondering what your best options are for paying off your loans once the extension of the federal student loan forbearance program ends on May 1,  2022. 
The purpose of this article is to help you understand the state of federal student loan payment requirements and some of the options available to you — including the pros and cons of federal student loan consolidation — so you can make an informed choice on how to proceed. 
Every borrower's situation is different and making the right decision on how to restructure debt depends upon a number of specific factors. If you are in default on your student loans or need more information on how best to manage your federal student loan repayments, consider consulting with student loan debt and relief counsel before taking any actions regarding your loan payment structure.  
The End of CARES Act Student Loan Forbearance
Many federal student loan borrowers stopped paying down their student debt because of the CARES Act forbearance provisions and subsequent forbearance extensions, which placed a moratorium of sorts on mandatory federal student loan payments.  
On March 27, 2020, the Coronavirus Aid, Relief, and Economic Security Act (CARES Act) was signed into law. Under the federal student loan provisions of the law, the requirements for federal student loan payments were paused, interest rates were dropped to zero, and the U.S. Department of Education halted its student loan default collection efforts. 
With no payments required and no interest accruing during forbearance, many federal student loan borrowers made the decision to stop making their loan payments. Others continued with their regular payments, applying the amounts that had previously gone to interest to reduce the principal balance. Now, with the provisions of the CARES Act and subsequent laws extending federal student loan forbearance slated to end on May 1, 2022, it's time for borrowers to assess their options and decide how to proceed. 
Consider All Available Options for Federal Student Loan Borrowers
Before you decide to pursue loan consolidation, it is a good idea to become familiar with all of the repayment plan options offered by the Department of Education. For instance, you may be able to reset your monthly student loan payment based on your current earnings. These income-driven repayment plans (IDR plans) provide options to extend repayment for 20 or so years, offering forgiveness for any remaining balance. You can also explore graduated repayment plans — where payments start out lower and then increase every two years — if you think your income will increase moving forward making it easier to meet payment obligations. 
Consolidation or Refinancing?
Before moving forward with a plan to consolidate, it is also important to understand the difference between consolidating and refinancing. You can consolidate your federal student loans with the Department of Education, or you can refinance them through a private lender. 
If you refinance your federal loans with a private lender, you'll lose some important benefits of working through the government loan programs. For instance, you will lose access to government programs like income-driven repayment and Public Service Loan Forgiveness (PSLF). And once you take your loans private, you can't convert them back to federal loans. However, working with a private lender may be a good option for you if your goal is to get a lower interest rate on your loans and/or if you also have private loans you want to fold into the refinance mix. 
Unlike the federal government, private lenders will look at your credit score and other factors in determining the interest rate you will be charged. If you have solid credit, you can get a lower interest rate that could substantially reduce your overall loan liability.  
How Federal Student Loan Consolidation Works
While you don't have to meet a creditworthiness requirement for federal loan consolidation, you won't be able to lower your interest rate either. When you consolidate federal loans, the government pays them off and replaces them with a new loan at a new fixed interest rate that is calculated on the weighted average of your previous rates rounded up to the next 1/8%. And unlike a private refinancing arrangement, you cannot roll any private sector loans you have into the new loan. 
However, federal consolidation can be the best way to go if you: 
Have Federal Family Education, Perkins, or parent PLUS loans and need to consolidate to be eligible for public service loan forgiveness or income-driven repayment

Have already defaulted on your federal student loans and are looking to redeem yourself and get back on track with your payments  

Are looking to extend the amount of time you have to pay off your loans 

Want the ease of making just one student loan payment per month
Contact Debt Legal Defense to Get Your Student Loans Under Control
Given the complex rules surrounding debt consolidation and all of the options available, making the right decision about how to handle your student loan debt can be daunting. It can be especially difficult if you are already in student loan default and face collection actions by lenders. 
The experienced attorneys at Debt Legal Defense can help you work through all of your options and find the best solution for your particular circumstances. Give us a call at (210) 468-1008 or contact us today to schedule a consultation.