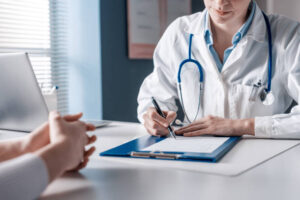 Medical bills are the leading cause of bankruptcy in the U.S. In fact, according to the Consumer Financial Protection Bureau, Americans are battling approximately $88 billion in medical debt.  So, if you're struggling with medical debts, you're not alone and there is help available. From laws that are designed to protect you, to organizations that may be able to help you pay your bills, to medical debt defense attorneys who will fight to help you resolve your debt in a manageable way, you have options when it comes to medical debt relief. 
Where to Get Help with Medical Debt
If you're struggling with medical debt, reach out to the facility that has issued the bill, and explain your financial hardship. In many cases, providers and facilities are very willing to work with you to set up monthly payments that you can afford to make. For example, in North Texas, Texas Health allows patients to apply for financial assistance.  Throughout the state, many private and public hospitals have financial assistance programs. Non-profit organizations such as The United Way may also offer financial assistance to qualified individuals.  
Get Help From a Medical Debt Defense Attorney
A medical debt defense attorney can be an incredible ally when you're struggling under mountains of medical debt. When you hire a skilled medical debt defense attorney, you will have the benefit of their experience in reviewing all medical bills to ensure that they are accurate. Unfortunately, medical bills are prone to errors and overcharging. This will ensure that you're only being charged what you owe.  
In addition, once you hire a medical debt defense attorney, all communications will be routed to the attorney, so that you can focus on caring for a sick family member, recovering from your injury or illness, or working. You will also have an attorney working to create a resolution with each creditor that will work for you and your family. If your case proceeds to litigation, your medical debt defense attorney will represent you. 
Medical Debt: Laws that Protect You
As you're working with an attorney, or on your own to manage medical debt, it can be helpful to be aware of laws and new rules that are designed to protect you.
Fair Debt Collection Practices Act
Consumers are protected from harassment, oppression, or abuse by any debt collector, including agencies attempting to collect medical debts. It is illegal for creditors or debt collectors to falsify who they are, threaten to have you arrested, misrepresent any debt, contact you before 8:00 am or after 9:00 pm, or continue to contact you after you've requested that they cease communication. 
No Surprises Act
The No Surprises Act went into effect in 2022 and established new federal protections against surprise medical bills. Surprise medical bills are defined as unexpected bills you may receive if you accept treatment from an out-of-network medical provider, an out-of-network medical facility, or an out-of-network air ambulance. This act also makes it illegal for companies to report unpaid surprise bills to credit bureaus. 
New Medical Debt Credit Reporting Rules
Beginning in 2022, the three major credit reporting agencies (Experian, Equifax, TransUnion) will not allow medical debt to appear on your credit for a full year. In addition, medical bills that are less than $500 will no longer factor into your credit scores. Bills that previously went into collections, but have been paid off will also be removed from your credit report. 
Schedule a Free Medical Debt Defense Consultation in Texas
Medical debt can feel overwhelming. If you're struggling under a mountain of medical debt, contact Debt Legal Defense today. Our attorneys can help. For a free, confidential consultation call 210-468-1008 or send us a message.